This list was compiled by Piers Nicholson in January 1997. Winchester was the capital of England in the time of King Alfred in the 900s, and under the Normans was the second city in England. Winchester Cathedral is the longest cathedral in Europe, with Norman transepts and fine Perpendicular stonework. Start your walk a short distance to the east of the Cathedral, in the memorial garden in Colebrook Street which has a modern horizontal dial just north of the children's playground.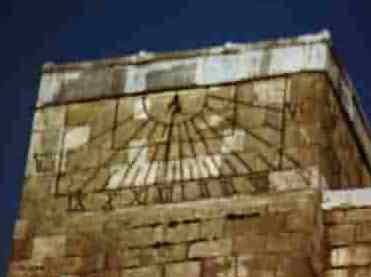 Walk alonside the playground, turn right into Colebrook Street, and then left down a narrow alley which leads you to the south side of the Cathedral. High up on a buttress on the south side is a plain vertical dial carved in the stonework; it dates from the 1670's.
With this dial behind you, walk through the Cathedral close, with the Deanery on your left and other fine houses, and go through the two arches into Kingsgate Street. Follow this street south, with houses belonging to Winchester College on your left. When the road bends to the right after half a mile or so, turn left into St Faiths Road. This leads you after a mile or so to the St. Cross Hospital, a fine collection of medieval buildings founded by Bishop Henry of Blois in 1136 for the maintenance of 13 poor men. There is a vertical sundial from the 1600's carved in the south face of the entrance tower. A second foundation, for men of "noble poverty" was added by Cardinal Beaufort in 1445. The inmates were a gown of the Blois foundation wear a black gown and medieval cap and a silver cross of St John on the left breast; those of the later foundation have a mulberry gown and a mulberry cardinal's hat with tassels. Both may be seen around Winchester. Any wayfarer may apply at the gatehouse for the "dole", a sliver of bread and a small portion of beer seved in a horn mug with a glass bottom.

The distance between the cathedral and St. Cross Hospital is about 1 mile.