This is one of a series of sundial lists designed to help visitors to find good and interesting sundials to see in areas unfamiliar to them. Follow the links for a list of our pages for other places in thecomplete list of Sundial Trails, divided by country.

This list was originally compiled by Roy Chilvers and Piers Nicholson.

Norfolk is a large county, and many of its sundials are in the north-west of the county, around Kings Lynn. This sundial tour of South Norfolk will take a whole day, but you will go to many interesting places, and see some very beautiful churches. (Please remember to give a donation to each church you visit - they rely on visitor's contributions) The tour starts and ends in Norwich. Take the A11 out of the city towards London. After about 20 miles, turn left on the B1111 to
East Harling
On the south side of this magnificent church, there is an ancient sundial. The gnomon appears to be a replacement, and possibly fixed too high on the dial. The hour lines are vestigially indicated by depressions in the stone, but the dial is generally quite badly eroded. The church has some magnificent stained glass which escaped the ravages of Cromwell's soldiers by being hidden in a neighbouring manor house, but was then "lost" for many years. During the Second World War, it was again taken out for safety, and restored in 1947.

From East Harling, take the minor road south through West Harling, where there is another lovely church standing alone in the middle of fields off the right, to pick up the A1066 to Thetford, and then the A134 towards Kings Lynn. After 9 miles, just beyond Mundford, take a left form to
Methwold
There is a vertical sundial over the porch, dated 1721, and in quite good condition, though the gnomon is bent.

Retrace your track to Mundford, turn left on the A1065 for 3 miles, then right on the B1108 to Watton. (There is a small dial at Merton just south of here, but you have to ask for access - please Email info@sundials.co.uk if you want to visit it too) Turn left on the A1075 to
East Dereham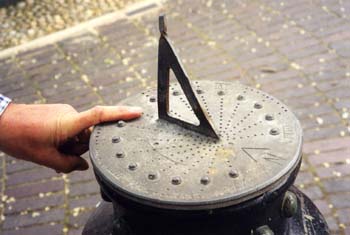 This is a bustling town, with a very large church in its centre. Just beside the church is Bishop Bonham's cottage, which is the local museum. Outside the museum is a horizontal dial mounted on a cast iron pillar. The gnomon of this one is bent too!

Take the A47 towards Norwich. This is a fast road which merges in to the Norwich by-pass. Take the first exit signed to Costessey and Norwich. At the inner ring road, turn left following the signs for Norwich airport.
Old Catton
is an old village which has now been swallowed up by Norwich. You will have to ask locally for directions - it is between the ring road and the airport. On St. Margaret's Church is a vertical sundial in good condition.

The next sundial is an "outlier" which can be missed out, in which case go straight to the centre of Norwich. Otherwise, go back to the ring road and turn left, and pick up the B1140 to Acle. You go close to Ranworth, and through South Walsham, which are both on the Norfolk Broads. You can climb Ranworth church tower which has a panoramic view of the Broads. At Acle, take the A1064 northwards, and turn right on the A147 towards Great Yarmouth.
Ormesby St. Margaret
has a new by-pass and an old stone sundial with a motto and hour lines, both partly eroded, over the porch door.

Retrace your track to Acle, and then take the !47 back into Norwich. Follow signs to the Cathedral. Parking is sometimes a problem in this area, but the doorman on the Cathedral Close will sometimes let you park there if you are going to look at the sundial.
Norwich, Cathedral Close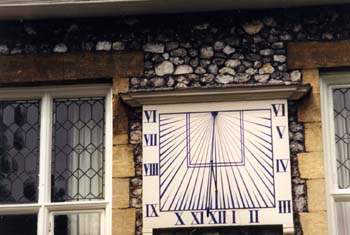 At the far end of the Close, on the left hand side, is a magnificent wooden vertical sundial, with a very pleasing black-and-white design with numerous hour lines. The Close is a lovely restful place, with many little alleyways round it, and the magnificent Cathedral is just round the corner. The doorman will also give you directions to walk to
St Andrews Church, Norwich
which also has a very fine sundial of stone over the porch door. This gnomon is also bent! (Gnomons are very susceptible to damage, from vandals if near enough to the ground, and from people using ladders if high up. No-one ever seems to bend them back!)