This trail explores the heritage of old New England society as preserved in the most charmed towns on the northern coast of Massachusetts. The trail incorporates horizontal and vertical dials, two armillary spheres, polar sundial and a solstice sun circle. It includes several grand old houses and other sites of historic or literary interest; check the websites (below) for opening hours, tours and special events. Although these sundial sites can be covered in a day, there is much to be said for dallying, making use of the inns and B&Bs of Salem, Marblehead or Newburyport, and enjoying the beaches and tours, museums and restaurants, galleries and boutiques. Whatever your timeframe, this trail requires a car.

Head first for Swampscott, America's first beach resort town, 14 miles north-east of Boston. If you're coming from the great metropolis, take Route 1A north (this highway services the less salubrious portion of the north shore, and is a poor advertisement for the delights awaiting you, but will have to do).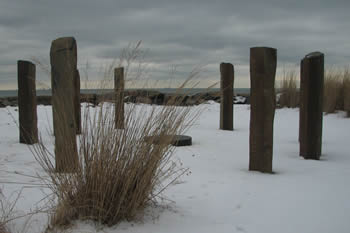 Our trial starts at another timepiece modeled on those of the ancients, a circular solstice sculpture overlooking the ocean. "May all who enter the circle be inspired by love, art, science and the mysteries of the universe," says an engraving - a fitting prelude for sundial seeking.

Find this sun circle by driving north out of Swampscott along Atlantic Avenue to Beach Bluff Park, a diminutive enclave of sand dunes located on the town line between Swampscott and Marblehead. (On a map, look for the intersection of Atlantic Avenue and Beach Bluff Avenue.)
You'll easily spot the sun circle, an arrangement of ten slender basalt obelisks. A dial at the center marks latitude, longitude and the solstices. Two pillars locate the circle's north and south axis, and the remaining four single stones signify the location of sunrise and sunset on the winter and summer solstices. Two pairs of stones, carved to create oval space between them, capture the burst of the rising sun on the spring and fall equinoxes.

The sun circle was designed by Marblehead architect Bruce Greenwald, and installed in 2009. The concept, needless to say, dates to the early Bronze Age. Meditate on time and tides before hopping back into your car and driving 2 ½ miles to our first sundial.

Take Atlantic Ave north for 2.1m, turn right onto Washington St, and look out in 0.3m for the Jeremiah Lee Mansion.
| | |
| --- | --- |
| | |
Welcome to Marblehead, a town of narrow, picturesque streets crammed with 17th and 18th century buildings. Marblehead is famous for the vigorous contributions of its mariners and artisans to the Revolution and Civil War; its sailors are generally recognized as the forerunners of the American Navy.

The Jeremiah Lee Mansion of 1768, at 161 Washington Street, is among the finest and most authentic late-colonial Georgian-style houses in the country. Built for Lee, then the wealthiest merchant and ship owner in Massachusetts, it has been owned by the Marblehead Museum & Historical Society since 1909 and is open to the public from June to October. Guided tours of eighteen furnished rooms on three floors invite us to gaze into the daily life and occupations of the old-time Marblehead elite.

The mansion's historically inspired gardens were laid out and are maintained by The Marblehead Garden Club, showcasing native species. The sunken octagonal sundial garden is surrounded by geometric boxwood bushes, echoing the Mansion's cupola or belvedere. This photo shows the sundial garden under snow and winter wraps. Uncovered, the horizontal brass sundial - a reproduction cast from the mansion's original lead sundial - is a square with a circle of Roman numerals and an inner circle showing the points of the compass. It stands on a granite plinth, with a plaque inscribed: "This stone made corner of Pleasant and Washington Sts for over one hundred years." The original lead sundial was made in 1774 for Jeremiah and Martha Lee, but after being damaged by vandals was moved into storage (in the 1970s or earlier). The replacement was cast by Michael Vincent in Burlington, Massachusetts. See www.marbleheadmuseum.org for museum opening hours.

Drive southwest on Washington St, turn left onto Rockaway St, and quickly left again onto Pleasant St for 1.2m. Turn slight right onto Route 114/Lafayette St for 2.4m, left onto Washington for 0.2m, then right to stay on Washington for 0.3m. Turn left onto Lynde St for 0.2m, left onto North St for 0.1m, and right onto Essex St. Look for #318 at 0.1m. This is a 4.5m drive.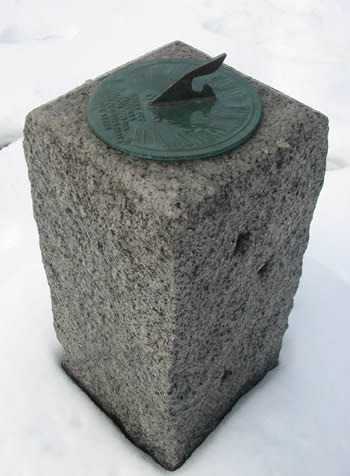 By now you're in the coastal city of Salem, which offers numerous reasons to linger. Best known as the site of the witchcraft trials of 1692, it later became one of the most significant seaports in early America, synonymous with luxury trade, and was immortalized again in the fiction of Nathaniel Hawthorne. The Peabody Essex Museum, America's oldest continually operating museum, boasts spectacular collections of Asian art.
The route supplied above for sundial hunters takes you to another interpretation of the Colonial garden: the Ropes Mansion at 318 Essex Street, listed on the National Register of Historic Places and owned by the Peabody Essex. A large, formal garden, open to the public, was added behind the house in 1912. Its paths converge at a granite plinth bearing a horizontal bronze dial with Roman numerals and the verse, "Hours fly, flowers bloom and die, old days old ways pass by, love stays."

This house was built in the late 1720s, and purchased in 1768 by Judge Nathaniel Ropes II, a supreme court judge in the Massachusetts Bay Colony. The judge was soon immersed in controversy over whether the court's justices should receive salaries paid from the proceeds of the unpopular tea tax. Ropes apparently first accepted then refused the salary. "Judge Ropes was exceedingly agitated," John Adams (later the second president of the US) wrote in his diary in 1774. Ropes died, apparently of smallpox, in that year, age 48 - reportedly the night after a mob surrounded this house, breaking windows.

To reach the next sundial at the House of the Seven Gables at 115 Derby St, go this way: north-east on Essex St, slight right onto Summer St, left onto Norman St for 0.3m, and stay straight onto Derby St for 0.5m. This drive is under a mile.
There is a horizontal dial nearby at the House of the Seven Gables, the 1688 mansion that inspired the Nathaniel Hawthorne novel. The novel describes a sundial on the front gable, but sadly that feature was either imaginary or has been removed.

The house is now a museum, partnered with the Nathaniel Hawthorne Birthplace. The horizontal bronze sundial, with Roman numerals, cherubs, a crown and zodiac symbols, is believed to have been installed about 1910 by then owner Caroline Emmerton. It is missing its gnomon - no great loss in practice, since the dial currently inhabits a shady corner. Visit this location for the literary and historical experience instead. www.7gables.org [photo]
Next, go this way: north-east on Essex St, turn left on North St (114) for 1.5m, turn left onto Gardner St (114) for 0.5m, turn left onto Pulaski St (114) for 0.1m, turn right onto Andover St (114) for 1.1m, turn slight right onto Sylvan St for 0.5m, and left onto Pine St for 0.4m. This is a 4.25m drive.
| | |
| --- | --- |
| | |
Follow signs to the Rebecca Nurse Homestead at 149 Pine Street. You're now in Danvers, formerly known as Salem Village. A dirt road leads to an old saltbox-style house on a knoll, the home of Rebecca Nurse, a victim of the 1692 witch trials in nearby Salem. When the 71-year-old matriarch was accused of witchcraft, she said, "I am as innocent as the child unborn, but surely what sin hath God found out in me unrepented of that He should lay such an affliction upon me in my old age?" At her trial, Nurse was first found innocent by the jury, but they reversed their decision and she was hanged. She was portrayed by Arthur Miller as the most benevolent and noble of the victims. "Let you fear nothing! Another judgment waits us all!" her character comforts John Proctor, in The Crucible.
The east-declining vertical wood dial above the main doorway-inscribed T 1636 B - never counted down the hours for Rebecca: it is believed to have been added when the house was restored in 1909.
The homestead includes 25 acres of pasture and woods, the Endecott house frame (ca. 1681), now resembling a barn, and a reproduction of the 1672 Salem Village Meeting House, featuring a multimedia program explaining the 1692 trials. It has featured in several film documentaries and dramas, and provides a vivid representation of New England colonial life. It is owned and operated by the Danvers Alarm List Company, Inc., a non-profit, educational, 18th century reenactment group (see www.rebeccanurse.org for events). The Nurse family graveyard, containing a memorial to Rebecca erected in 1885, is among tall pine trees on the west side of the property. Her body is believed to have been buried on the homestead in an unmarked grave by her children. A later inhabitant of the house, Rebecca's great-grandson, Francis, was a sergeant in Captain John Putman's Alarm Company. In 1775, he received the alarm that British troops were marching to Concord. From this house he shouldered his musket and marched to the battle.

Drive north on Pine St towards Holten St for 0.9m, turn slight left to stay on Pine St for 0.2m, turn slight left onto Maple St (62 W) for 1m, take the ramp for Route 1 N and stay on 1 N for 15.5m, take first exit at roundabout on State St for 0.6m, turn left onto High St for 0.1m, turn right onto Park St for 0.1m, turn right onto Harris St for 0.1m, turn right onto State St and look for the Institution for Savings on the left.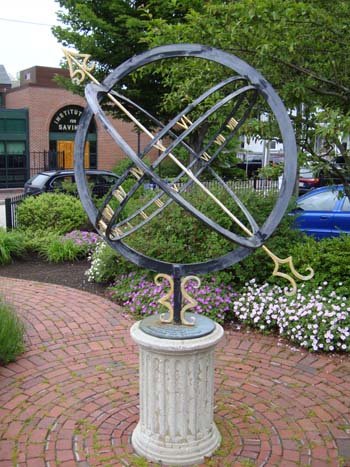 You have travelled further up the coast to Newburyport, which offers two radically different sundials. Laid out between the Merrimack River and the Newbury salt marshes, this town deserves a weekend's visit. There is a historic seaport with an active shipyard, the gorgeous beaches and nature reserves of Plum Island, and many fine colonial residences - particularly on High Street, lined with the homes of seafaring entrepreneurs. The houses are complete with traditional gardens and rooftop Widows' Walks.

The directions take you to the Institution for Savings at 93 State Street, across the road from the library. In front of the bank is an armillary sphere four feet in diameter, constructed in steel hand forged and welded by Cassidy Brothers Forge and "Color galvanized" by Duncan Industries, with a gold leaf finish. It was made to specifications in Albert Waugh's book on sundials, and includes latitude and longitude corrections. Mounted on a cast stone pedestal, it is about eight feet high overall. Be sure to go inside the bank, which may well be the most elegant you ever enter - almost enough of a pleasure to counter bad financial news - and also take your pick of numerous downtown eateries.
The next sundial is a short walk away. Head to Market Square and the Firehouse Theatre to the seafront. Take the Harborwalk upriver: a new boardwalk section connects with Cashman Park (a distance of several blocks). This park on the banks of the Merrimack has an updated playground featuring nautical-themed play structures, a tennis court and basketball court, softball fields and a boat ramp - and, as colorful and unfussy as any other tot lot feature, a blue and yellow polar sundial. The polar sundial (rarely seen) is universal and can be used at any latitude. The hour lines are parallel to each other and are symmetrical with the noon line. The gnomon is positioned on the noon hour line.

| | |
| --- | --- |
| | |
br> Driving from State Street: head south-west on State St towards Garden St for 0.1m, turn right onto High St for 0.3m, turn right onto Summer St for 0.4m, turn slight right onto Route 1 for 2.0m, turn slight left onto Elm St (1 S) for 0.1m, turn slight right onto Elm St (110) for 3.1m, merge onto 495 S towards Haverhill for 19.8m, take exit 41 towards Lawrence/Andover , turn slight right onto N Main St (28 S) for 2.4m, take U turn at Phillips St onto Main St. Look right for the green, well-scrubbed grounds of a traditional New England co-ed boarding school, Phillips Academy at 180 Main Street. This drive is 28 ½ miles, about 45 minutes. a color galvanized and gold leaf finish.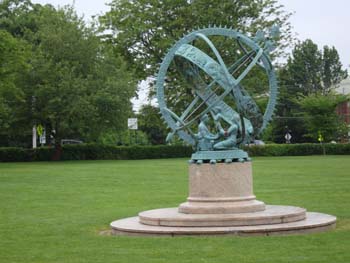 Now you're in Andover, home to Phillips Academy and its ornate armillary sphere, reputedly one of the finest in the country. The armillary has large figures inside the sphere at the base (see detail picture), and the equatorial circle has signs of the zodiac in raised metalwork. "The path of the sun is shown by the Ecliptic," says Paul Manship, the designer and sculptor of this sundial: "The shaft, representing the axis of the earth, points to the North Star; and its shadow on the belt of the equator indicates the hour. The four Elements, as well as Dawn and Evening, figure in the decorative scheme: Water in the wave motif, with the Earth motif growing out of it; Air is represented by the ribbon, and Fire on the flaming meridian. The whole is supported by turtles, emblems of eternity. Man, Woman, and Child make up the Cycle of Life, as the sphere itself symbolizes the Cycle of Eternity." Approximately eight feet in diameter, the sphere was sculpted in 1928 and cast by Alexis Rudier Fondeur in Paris.
The route back to Boston will take us via the city of Waltham. Drive north-west on Main St (28 N) for 0.1m, turn left onto School St then right to stay on School St for 0.2m, turn right onto Morton St for 0.1m, turn right onto Main St (28 S) for 3.4m, take the Route 125 ramp towards I-93 Boston, turn left onto ByPass Road (125) for 2.3m, merge onto I-93 S towards Boston for 6.3m, taking exist 37B towards Waltham merge onto I-95 S for 12.5m, take exit 27A towards Totten Pond Rd for 0.2m, turn slight right onto Winter St for 0.1m, stay straight onto Totten Pond Rd for 1.2m, turn right onto Lexington St for 0.2m, turn left onto Beaver St for 0.7m passing through 1 roundabout, look on the right for a sign for Stonehurst. This is a 27.4m drive; about 40 minutes.
| | |
| --- | --- |
| | |
I do not count the hours unless they are bright - "What a bland and care-dispelling feeling!" wrote William Hazlitt in 1827, responding to the Latin motto (Horas non numero nisi serenas) on a sundial near Venice. He added, "Out of such mood of mind, indolent, elegant, thoughtful, this exquisite device (speaking volumes) must have originated." We come across the same motto at the Robert Treat Paine House (also called Stonehurst) in Waltham a few miles west of Boston.
The address is 100 Robert Treat Paine Drive, but set your GPS for 570 Beaver Street, and find the drive winding through conservation lands (more than 100 acres) to the house on a ridge. Stonehurst, with its exterior of small boulders and weathered shingles, is a prime example of a school of American design that visualized architecture as an organic, integral feature of the landscape. The house, a National Historic Landmark, was completed in 1886 - "just as the industrial era was beginning to impose artificial standards on time itself", a Stonehurst flier reminds us. The house was a collaboration between social reformer Robert Treat Paine (it was to be his own country home) and the most celebrated designers of late 19th century America: architect Henry Hobson Richardson and landscape designer Frederick Law Olmstead. Together they sought to influence the way Americans inhabit and relate to their environment. See www.stonehurstwaltham.org for visitors' information.
The declining vertical sandstone dial, approximately 3x6 feet with a bronze gnomon and Roman numerals, is mounted at the second floor level of the upper southeast tower. Paine was interested in astronomy and designed the dial (the architectural drawings show a different original design). The hour lines from 6 am to 5 pm are not in standard vertical position, presumably offset to correct for wall not facing due south. The dial also bears a verse from the poet John Greenleaf Whittier: "With warning hand I mark time's rapid flight from life's glad morning to its solemn night. Yet through the dear God's love I also show there's light above me by the shade below."
If time hasn't run out, and if on your way back to Boston you would like to see the literary twin of the Stonehurst sundial, go this way: east on Beaver St towards Forest St for 0.9m, left onto Waverly Oaks Rd (60) for 0.8m, slight right onto Trapelo Rd (60) for 1.7m, Trapelo Rd becomes Belmont St for 1.1m, turn left onto Mt Auburn St (16) for 0.3m, and look for Mount Auburn Cemetery.
If you're heading back to Boston, go this way: south-west on Beaver St for 0.2m, take second exit from roundabout onto Lyman St for 0.5m, turn left onto Main St (20) for 0.1m, turn right onto Newton St for 0.3m, turn left onto Rover St for 0.8m, River St becomes Pleasant St for 0.6m, turn right onto Bridge St for 0.4m, turn right onto Watertown St (16) and immediately left onto Adams St for 0.5m, turn left onto Washington St for 0.4m, turn slight right onto Center St for 0.4m, take the Mass Turnpike (I-90) ramp towards Boston, take the I-90 E (Mass Pike) for about 6m to Boston.
Pause at another National Historic Landmark, The Mount Auburn Cemetery. This was first large-scaled designed landscape open to the public in the US, and is now famous for its beauty, historical associations and horticultural collections. Mt Auburn is the final home of many celebrated writers, politicians, art patrons, social reformers and architects, including Henry Wadsworth Longfellow, Isabella Stewart Gardner and Mary Baker Eddy. Maps and tour information are available at the entrance gate and in the cemetery office. See www.mountauburn.org.
The Story Chapel bears a vertical sundial, approx 2' x 2' in bronze. A square bronze plate, with Roman numerals, is open in the center and the gnomon extends through this space. The dial is mounted above a window of the chapel, angled from the wall face. The inscription below is the same Whittier verse we saw at Stonehurst.
The cemetery staff can also point you to the Payson memorial, a well-patinated horizontal bronze dial on a stone pillar. The gnomon takes the form of a butterfly alighted on the sunflower dial. The sundial has charm, but its site beneath shady evergreens rather defeats its purpose. [photo]
Head back into Boston: go east on Mt Auburn St towards the North entrance for 0.3m, turn slight right onto Gerry's Landing Rd (3 S/2 E) for 2.3m, keep left to go on Memorial Drive (3 S) for 1.7m, take slight left onto ramp towards Govt Center/Downtown Boston for 0.2m, turn right onto Main St (3 S) for 0.5m, turn slight left onto Cambridge St for 0.7m, turn slight right onto Tremont St for 0.1m. Welcome back to Boston, the location of several fine sundials - but those are another story.
Thanks to Piers Nicholson for suggesting this interesting project, Ann Clifford (Curator at Stonehurst), and Karen MacInnis (Curator of Collections at the Marblehead Museum & Historical Society).