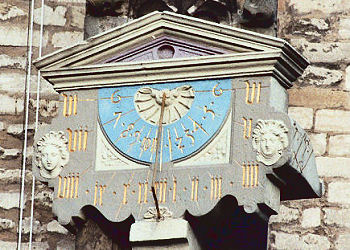 The Amsterdam Sundal Trail is intended for sundial friends who visit Amsterdam as a tourist, and would like to see some interesting dials, or dials in interesting locations, together with classified highlights such as the Van Goghmuseum and the Anne Frank House, or other hot spots of their choice. Although I describe a complete trail, starting and ending at the Central Station, you are of course free to include selected sites into a trail of your own.
The complete trail is about 8 km (5 miles) long. It offers 8 sundials visible from public walkways, and another 8 dials hidden behind Amsterdam's famous canal house fašades. The latter can usually be visited during office hours - and most are free! The route is divided into 12 steps.
The website gives an overview of the trail. The trail description, detailing for each step how to get at the target and what can be seen and done there, can be downloaded in printable form (pdf).
Click here to go to the trail's website: www.fransmaes.nl/sundials/amsterdam/.
This sundial trail was kindly produced by Frans W. Maes, November 2007