The membership: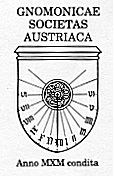 The Working Group for Sundials is open to all, however, membership in the working group is only possible in combination with membership in the Austrian Astronomical Society. The latter is obtained through an annual membership fee of ATS 100.-- as of 1999 (approx. US $ 9). Membership is renewed at the beginning of each calendar year by a payment slip which comes by post.
To become a member send an E-mail to the secretary.



Activities and purpose of the Working Group for Sundials

- Assistance in the preservation of historical sundials
- Cataloging of Austrian sundials
- Publications
- Meetings and Excursions
1. Assistance in the preservation of historical sundials

Austria is one of the countries with the richest heritage of sundials in the world. The members of the working group see it as their duty to support, in the best possible manner, the authorities which are responsible for the preservation of sundials as culturally valuable assets (offices for the protection of historical monuments, communal administrations, etc. ) in the restauration of dial-plates and gnomons.

2. Cataloging Austrian sundials

In 1993, the GSA published the second edition of the "Catalogue of Stationary Sundials in Austria" with 2220 sundials represented. The 144-page catalogue, containing 33 photographs of sundials and 7 illustrations, is format 16,5 x 23,7 cm. It is only available in German.

The catalogue is out of print !

Cataloging has continued, and presently (January 1999) 2850 sundials are recorded in the data bank.

3. Publications

Since 1990, GSA has informed its members through a bi-annual bulletin (RUNDSCHREIBEN) about events, literature, gnomonic, activities of GSA - members, and general articles about sundials.

4. Meetings and Excursions

Since 1990, GSA has organised an annual meeting in autumn, usually in September. At these meetings the members of the GSA can get acquainted and exchange their experiences with sundials.
On the first day (Friday) matters of the working group are dealt with, lectures and slide shows are presented. The programme on the second day (Saturday) usually is an all day bus trip to view sundials in the respective region.

Address of the secretary :

Am Tigls 76a
A-6073 Sistrans
Austria
E-mail
You can find pictures of sundials in Austria also in the homepage of Karl Schwarzinger
Homepage from the Austrian Astronomical Society
Back to 'List of national sundial societies'